Skyline Technology Solutions Promotes First Female CEO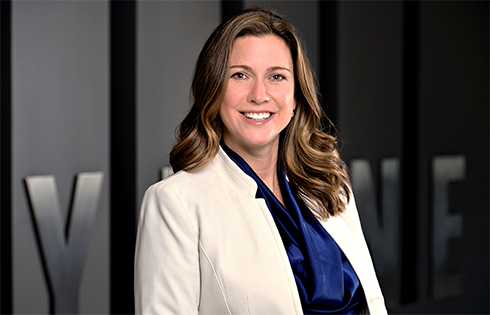 Glen Burnie, Md. (January 28, 2021)— Skyline Technology Solutions is proud to announce the appointment of its first female CEO, Mia Millette. Prior to her appointment on January 1, 2021, Millette served as COO of the Maryland-based information technology company since 2018. She succeeds company founder, Brian Holsonbake, who will transition from CEO to Chairman and now focus on advancing Skyline's long-term strategic initiatives.
A Maryland transplant from the small Pennsylvania manufacturing town of Perryopolis, Millette knew from a young age she was destined for a career in technology. Her passion for the industry was ignited in second grade when she successfully coded a sequence that made a figure dance across the screen of her school's early model Texas Instruments computer. She is very passionate about sharing her love of technology and inspiring others to pursue STEM as a career and loves that she was introduced to computers by a female, Carol McFarland, her second grade teacher.
"I very much look forward to leveraging more than two decades of technology and business experience to advance Skyline's mission of enriching the lives of those we serve. I remain passionate about creating unique solutions to complex problems," says Millette. "During my leadership, we will not change who we are as a company nor our culture. Skyline remains committed to our community and ensuring we deliver sustainable value for our customers. I am honored and firmly embrace the charge of advancing Skyline's global leadership position in delivering innovative, connected solutions."
Prior to leading Skyline, Millette held a wide variety of roles in information technology, including those in executive management for the past decade. Previous employers include GANTECH, where she held roles including Director of Strategic Operations, Vice President of Strategic Operations and Vice President of Managed Services. During the first 9 years of her career, Millette started out at System Automation Corporation (SA), where she held positions as Software Developer, Business Analyst, Project Manager, and Manager of Application Delivery. She highly regards her years at SA due to the people she worked with, the experience of the national customer-base served and the technical acumen gained which all formed a solid foundation for her to excel in the later years of her career.
Millette earned her Bachelor of Science in computer science from Indiana University of Pennsylvania, as well as her Master of Science in computer systems management from the University of Maryland Global Campus (formerly known as the University of Maryland University College). Her work ethic, focus, energy and passion resulted in attaining Project Management Professional (PMP) credentials and ITIL® Expert certification. Additionally, she earned a Smart CXO award in 2012 from Washington, DC's SmartCEO Magazine for her creative management vision, leadership philosophies and innovative strategies.
"We are thrilled to advance Mia's position to CEO within Skyline and we are confident she is the best person for the job," says Holsonbake. "Her extensive experience and dedication to delivering innovative, connected solutions grounded in trust, respect, and grace is unmatched. I look forward to seeing the company grow, under her leadership, in the strategic markets that we are focused on serving."
###
About Skyline:

Founded in 2004, Skyline Technology Solutions is a full-service IT integrator, enterprise solutions provider, and product development organization headquartered in Maryland. Skyline cares deeply about unlocking value for clients. Its uncommon approach to delivering IT solutions and outstanding customer service starts with building trusting relationships. Skyline provides solutions to federal, state and local government, transportation, education, as well as public safety and commercial customers. Skyline specializes in managed IT solutions, public safety data and video interoperability as well as physical security and access control.
For more information, please contact:
Renee Lennon
Director of Marketing and Relationship Management
rlennon@skylinenet.net
410-590-2088